A relief to this week's surprisingly strong field at this week's RBC Heritage, the tournament does not need to be canceled: Scottie Scheffler is sitting this one out. The world No. 1 largely dominated The Masters last week, putting an exclamation point on an absurd stretch of play that has seen him win in four of his last six starts.
Among those hoping to take advantage of the Scheffler-less field are five players who rank in the top 10 of the OWGR, in addition to a number of Masters contenders, and 48-year-old defending champion Stewart Cink, who won his third Heritage a year ago. Could Cink become the event's first back-to-back champion since Davis Love III won the 1991 and 1992 editions? We don't see the odds particularly being in his favor, although his precision and short-game prowess is exactly what is required to conquer South Carolina's Harbour Town Golf Links.
Here is who we do like to contend in the Tour's first event post-Masters:
15. Jordan Spieth
The man who has looked like he was born to dominate The Masters was a shocking missed cut at Augusta last week, carding a double-bogey on 18 in the second round to finish two strokes short of the cut line. It was the most troublesome result of a poor recent stretch of play for the 12-time Tour champion, who has six consecutive finishes of T26 or worse since finishing runner-up to Tom Hoge at the AT&T Pebble Beach Pro-Am in early February. Spieth has been especially poor with the flatstick, ranking 180th on Tour in strokes gained: putting. He does have three top-12 finishes at Harbour Town, but all three were in his first three full-time seasons (2013-2015). In his two more recent attempts, he was T54 and T68.
Odds: 33-1
Odds Rank: 12th
World Rank: 20th
Field Rank: 10th
Last Six: MC, 35, MC, 26, 60, 2
Best at the Heritage: 9th (2013)
---
14. Kevin Na
A T14 at last week's Masters looks fantastic when you consider that he shot a 79 in the third round. Shooting under par in each of the other three rounds, it was a second straight top-15 finish for Na, who was also T9 two weeks earlier at the WGC-Dell Technologies Match Play. While the 38-year-old has yet to win at Harbour Town, he is one of the most experienced players in the field, having had 15 starts in this event, with five of those resulting in top-10 finishes. Do not let his season statistics, which are horrific, scare you off, as he is trending very positively.
Odds: 40-1
Odds Rank: 15th
World Rank: 32nd
Field Rank: 18th
Last Six: 14, 9, MC, MC, 28, 20
Best at the Heritage: 4th (2007)
---
13. J.J Spaun
A maiden tour victory two weeks ago at the Valero Texas Open got him into the field for his first Masters, and he more than held his own, finishing T23 which ended up being one stroke better than Jon Rahm and Viktor Hovland. Spaun's game has been very well-rounded this year, as he has shown a lot of consistency tee-to-green, and he has had success at Harbour Town before, finishing T6 in 2017. This has already been his most lucrative season on Tour.
Odds: 100-1
Odds Rank: 34th
World Rank: 90th
Field Rank: 45th
Last Six: 23, 1, 27, MC, 52, 30
Best at the Heritage: 6th (2017)
---
12. Harold Varner III
Varner's showing at The Masters last week was a microcosm of his career. He was one of just three players to record at least three under-par rounds, and at 2-under through two rounds, he played one of the later tee times on Saturday. However, as he has often done when in contention in a Tour event, he imploded in the third round, shooting an 8-over 80 where he bogeyed nine holes. The 31-year-old seems likely to break through on Tour at some point though, and it could be at Harbour Town, where he finished T2 to Stewart Cink a year ago.
Odds: 50-1
Odds Rank: 34th
World Rank: 39th
Field Rank: 21st
Last Six: 23, 18, 57, 6, MC, MC
Best at the Heritage: 2nd (2021)
---
11. Kevin Kisner
The South Carolina native typically performs well in this part of the country, and Harbour Town is no exception. The 38-year-old short-game specialist finished runner-up in this event in 2015 and was T7 in 2018. With four top-10s on the season, including two top-3s in his last four starts, Kisner should be especially motivated to excel at this year's Heritage, given that he has been a surprising missed cut the past two editions. He currently ranks fifth on Tour in driving accuracy.
Odds: 40-1
Odds Rank: 15th
World Rank: 39th
Field Rank: 14th
Last Six: 44, 2, 33, 4, MC, 38
Best at the Heritage: 2nd (2015)
---
10. Sungjae Im
The 24-year-old recorded his second Masters top-10 finish last week, holding the 18-hole co-lead, in just his third event start, which is impressive given the experience typically required to contend. His Sunday likely stung, though, as he began the final day in third place, just five strokes back of Scheffler before a 3-over 75 dropped him to T8. It may have busted Im from a mini-slump in a season where he has a victory and four other top-10 finishes in 14 starts. He ranks 17th or better in four of the six strokes gained categories, and contended at last year's Heritage for three rounds before a triple-bogey on the par-5 2nd was a knockout punch to his chances. He ended up finishing T13 after missing the cut in his previous two attempts.
Odds: 33-1
Odds Rank: 12th
World Rank: 21st
Field Rank: 11th
Last Six: 8, 35, 55, 20, MC, 33
Best at the Heritage: 13th (2021)
---
9. Webb Simpson
This is Webb's tournament: he set the scoring record (-22) in his 2020 victory, was runner-up in 2013, and had two other top-10 finishes, and four others in the top 16. He has finished T16 or better in each of the past five editions. There could be reasons to fade him this week, however. In addition to the field being stronger than usual, he has not been great in 2022, with just one result of better than T30 in nine starts. He was up-and-down in a T35 finish at The Masters, particularly in the final round where he was 7-over through 14, but then birdied 15, 16, and 17 to limit the damage and make himself some money.
Odds: 33-1
Odds Rank: 12th
World Rank: 41st
Field Rank: 22nd
Last Six: 35, 35, 48, MC, 61, 17
Best at the Heritage: 1st (2020)
---
8. Joaquin Niemann
The fans who were not familiar with the 23-year-old Chilean are now, after seeing him outplay Tiger Woods in the first two rounds in the Masters' most watched grouping. He was in the thick of the tournament before a disappointing 18th hole on Friday, but his weekend was largely forgettable, shooting 77-74 and finishing T35. He has three top-10 finishes on the season, including a victory at February's Genesis Invitational, against one of the strongest fields of the year among non-majors. Niemann was T5 in his only Heritage start two years ago, highlighted by a third-round 63.
Odds: 28-1
Odds Rank: 9th
World Rank: 15th
Field Rank: 7th
Last Six: 35, 22, MC, 1, 8, 6
Best at the Heritage: 5th (2020)
---
7. Dustin Johnson
The 2020 Masters champion did well to close last week's event with an even-par 72, considering that he triple-bogeyed the par-4 11th. He ended up finishing T12 in an up-and-down week for the 24-time Tour champion. A South Carolina native, Johnson will be playing the Heritage for the first time since 2018, where he closed with a 66 to finish T13. He has no top 10s here but has been at least relevant in his last four attempts. He has been trending positively as of late, finishing T9 at THE PLAYERS after closing with a phenomenal 9-under 63, and taking solo-fourth three weeks ago at the WGC-Dell Technologies Match Play.
Odds: 18-1
Odds Rank: 5th
World Rank: 9th
Field Rank: 5th
Last Six: 12, 4, 39, 9, MC, 8
Best at the Heritage: 13th (2021)
---
6. Corey Conners
Canada's highest-ranked golfer was again relevant at Augusta, as a T6 at last week's event was his third consecutive top-10 Masters finish. It kept going an encouraging recent stretch of majors that saw top-17 finishes in three of them in the 2021 season. Harbour Town is a good fit for the 30-year-old, who ranks third on Tour in greens in regulation and seventh in strokes gained: off-the-tee. He finished T4 here a year ago and is riding a hot hand with his strong Masters outing coming just two weeks after finishing third at the WGC-Dell Technologies Match Play.
Odds: 28-1
Odds Rank: 9th
World Rank: 31st
Field Rank: 17th
Last Six: 6, 35, 3, 26, 11, MC
Best at the Heritage: 4th (2021)
---
5. Cameron Smith
The Aussie looked like he was ready to cruise to the green jacket several times last week, but would cancel out a lot of his best work with untimely bad holes, such as his double-bogey on 18 in the first round, and especially his triple-bogey on 12 on the final day, just as he was starting to build some momentum to take on Scottie Scheffler down the stretch. Smith could very easily be exhausted from playing in the final Sunday pairing at Augusta, but he has been spectacular as a whole on the season, winning twice, including at THE PLAYERS, and finishing inside the top 4 on two other occasions. He opened with a 62 here a year ago on his way to a T9 result.
Odds: 16-1
Odds Rank: 4th
World Rank: 5th
Field Rank: 2nd
Last Six: 3, 1, 33, 4, MC, 1
Best at the Heritage: 9th (2021)
---
4. Justin Thomas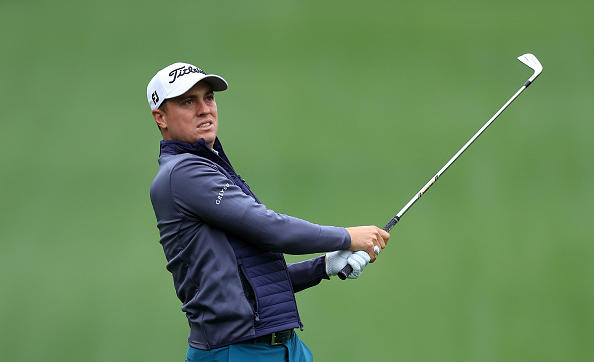 The world No. 8 did well to finish T8 at The Masters last week, considering that he opened with a 4-over 76. Thomas vaulted into weekend contention but was then very up-and-down with a lot of his emotion being emphasized on camera. On five occasions at Augusta, Thomas strung together birdies on consecutive holes, with two of those being the three-in-a-row variety. In his final round he played 10-12 bogey, bogey, double bogey before playing 14-16 birdie, birdie, birdie. Still looking for his first win in over a year, JT's results as a whole have been strong, with six top-10s in ten 2022 season starts. He is currently second on Tour in strokes gained: tee-to-green.
Odds: 9-1
Odds Rank: 1st
World Rank: 8th
Field Rank: 4th
Last Six: 8, 3, 33, 6, 8, 20
Best at the Heritage: 8th (2020)
---
3. Shane Lowry
The affable Irishman has established himself as a big-game hunter, contending at The Masters a week ago, finishing T3 for his fourth top-10 (one victory) in a major championship over the past three seasons. Many would be surprised to hear that Lowry boasts the Tour's fourth-best scoring average, and has been especially strong as of late, with four finishes of T13 or better in his last five starts. His high-end putting game should serve him well at Harbour Town, where he has two top-10 finishes in four starts, including a T9 a year ago. It is difficult to see his hot streak ending this week.
Odds: 18-1
Odds Rank: 5th
World Rank: 30th
Field Rank: 16th
Last Six: 3, 12, 13, 2, 14, 24
Best at the Heritage: 3rd (2019)
---
2. Matt Fitzpatrick
A T14 at The Masters last week was the sixth finish of T18 or better in seven Tour starts for Fitzpatrick in the 2022 calendar year. A very steady all-around game that has him surprisingly leading the Tour this season in strokes gained: total, should do him well at Harbour Town as he searches for his first career Tour victory. He was T4 here a year ago and has finished T14 or better in three of his last four attempts. This really, really feels like it could be the week for the world No. 23.
Odds: 18-1
Odds Rank: 5th
World Rank: 23rd
Field Rank: 13th
Last Six: 14, 18, 5, MC, 9, 10
Best at the Heritage: 4th (2021)
---
1. Collin Morikawa
It never really felt like the world No. 2 was in the thick of contention at The Masters last week, but when it was all said and done, Morikawa was solo-fifth on the final leaderboard. He closed very strong at Augusta, carding six birdies and an eagle in a final-round 5-under 67, highlighted by a hole-out gain from the sand on 18 just moments after playing partner Rory McIlroy did the same thing. Morikawa's tee-to-green game is immaculate, and if he's on, he's easily the favorite at Harbour Town this week (sorry JT fandom). He has six top-10s in just eight starts this season and was in second-place through three rounds at last year's Heritage before finishing T7.
Odds: 12-1
Odds Rank: 2nd
World Rank: 2nd
Field Rank: 1st
Last Six: 5, 9, 5, 68, MC, 2
Best at the Heritage: 7th (2021)
---
Next Five: Patrick Cantlay, Billy Horschel, Troy Merritt, Tom Hoge, Daniel Berger
---